Classes in the Park
Join us for a small group class at La Mesa Park (across from Lazy Acres) or Shoreline Park West (west of the playground, see yellow circles on image below of our two locations).  Practice with your favorite teachers and other students in the fresh and open-air overlooking the ocean. Lots of free parking.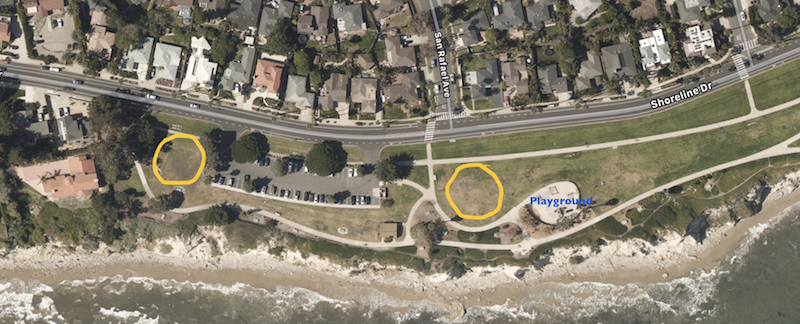 Please Bring:
Your own mat and props
Something to cover yourself in case the temperature shifts
Water and sunscreen
If you want an outdoor yoga mat we have basic yoga mats for sale at the studio for $30.
All classes will be 60 minutes unless otherwise noted. We'll keep social distance between mats.
Important Details:
Pre-registration for all our outdoor classes is required.

You must complete our waiver before attending class.

Waitlist notifications are sent via email.

No-Show/Late Cancellation Fees: If you can't make it to class, please be sure to cancel within 3 hours of the class start time so we have time to invite other students. No-shows or cancellations made in the 3-hour window will be charged a $20 fee.
Payment details:
Please pay when you register online– before you arrive. We will not have a way to take payment for classes at the park.

We have a hybrid monthly membership that includes both online and park classes if you want to mix it up online and outside.
Regular, in-studio memberships and class packs can be applied/used for Park Classes.
Online class membership, online drop-ins and online class packs cannot be applied to park classes at this time.
You are always welcome to purchase a Park Class drop-in for a single class.
See Our Entire Class Schedule Below:
Thanks for your support. We look forward to seeing you at the Park!!